The Admirer Playbook for Thirsty Sword Lesbians
Form-fillable character sheets and .epub format — v1.3.0
---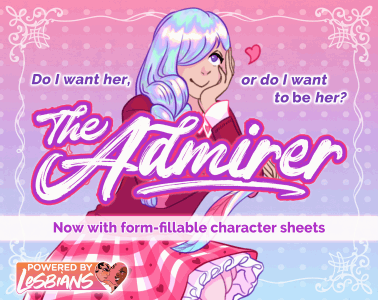 First thing's first: no mechanical changes in this update, only updates to the documents.
Like this post says on the tin: the Admirer now includes form-fillable .pdf character sheets! This will make it much easier to track Homages and Down Beats, as well as all the standard stuff (Strings, stats, conditions, etc).
We've also included a new, mobile-friendly .epub format! This is our first attempt at publishing a .epub, so please let us know if you run into any issues with it.
Happy admiring! 💌🌸
Full list of changes since 1.2.0:
Form-fillable character sheets, with and without artwork
.epub format for easier reading on mobile
version number added to character sheets for tracking
Files
Admirer TSL Playbook v1.3.0.zip
47 MB
May 13, 2023
Admirer Playbook - Singles.pdf
17 MB
May 13, 2023
Admirer Playbook - Spreads.pdf
28 MB
May 13, 2023
Admirer Playbook - Character Sheets (Formfillable).pdf
1 MB
May 13, 2023
Admirer Playbook - Character Sheets (Formfillable, No Artwork).pdf
837 kB
May 13, 2023
Get The Admirer Playbook for Thirsty Sword Lesbians