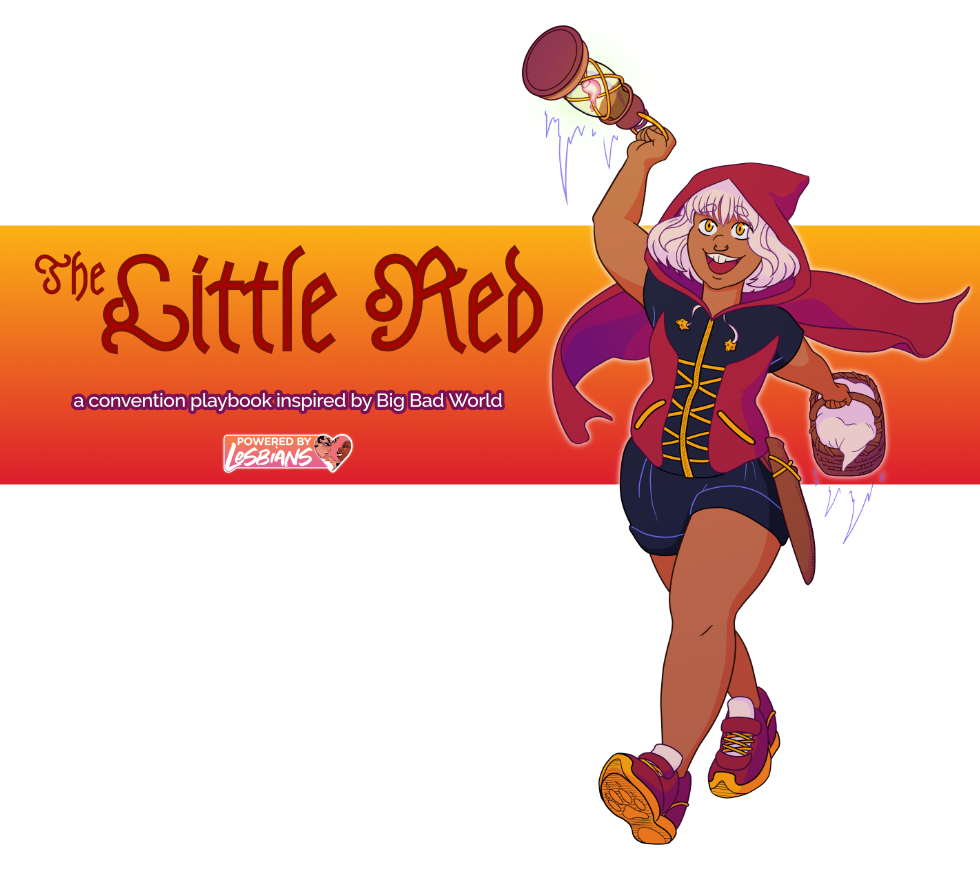 The Little Red Playbook for Thirsty Sword Lesbians
The Little Red is ready and raring for the big adventure that lays before them, but Grandma didn't raise a fool: they know that nothing ruins the fun like running yourself ragged.
Their challenge is to make the most of the moment while taking care of themself and others.
The Little Red is all about Excitement. It's a balancing act: some Excitement is a good thing, but the extremes of too much or too little Excitement can run you off the rails.
Every purchase includes:
Printable, form-fillable character sheets (with and without artwork)
Convention Jargon and Other Good Stuff explainer
The Little Red is a convention playbook inspired by Big Bad World, and was released as part of the Big Bad Con 2023 Digital Zinethology.
Special thanks to Christie and April.
Thirsty Sword Lesbians™ is a trademark of April Kit Walsh.
The Powered by Lesbians Logo is © April Kit Walsh, and is used pursuant to the open licensing terms at poweredbylesbians.com.
Purchase
In order to download this playbook you must purchase it at or above the minimum price of $5 USD. You will get access to the following files:
Little Red TSL Playbook v1.0.1.zip
2 MB
Little Red TSL Playbook (Formfillable).pdf
1 MB
Little Red TSL Playbook (Formfillable, No Artwork).pdf
1 MB
Exclusive content
Support this playbook at or above a special price point to receive something exclusive.
Community Copy
If you'd like a copy but aren't able to afford it for whatever reason, please take a Community Copy. If copies have run out, please let @konahart know at one of the links below or by emailing kona@darlingbat.games.
Mastodon: https://dice.camp/@konahart
Comments
Log in with itch.io to leave a comment.
Here waiting for the playbooks to release to get it as soon as possible-